ABOUT SORA HEGE
Psychotherapist, supervisor, coach
Education and training locations: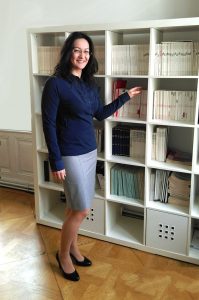 Further education for Systemic Supervisor and Coach at ÖAS, 1010 Vienna
Further education for children and adolescent psychotherapy at ÖAS, 1010 Vienna
Training for Systemic Family Therapy at ÖAS, 1010 Vienna
Psychotherapeutic Clinic of ÖAS, 1010 Vienna
Psychotherapeutic Clinic of Sigmund Freud University in cooperation with Kinderhilfswerk, 1010 Vienna
IPF Institute for Couple and Family Counseling, 1020 Vienna
IST Institute for Systemic Therapy, 1030 Vienna
Ambulant treatment facility for gaming addiction "Spielsuchthilfe", 1050 Vienna
Family Counseling Center for Couples, Families and Sexual Counseling, 1160 Vienna
Provincial hospital, department for paediatric and juvenile psychiatry and psychotherapy, Hinterbrühl, 2340 Mödling
Heilpädagogisches Zentrum Hinterbrühl, therapeutic pedagogic center for children and juveniles, crisis management center, 2371 Hinterbrühl
Therapeutic community for girls "mission:possible Wege für Mädchen", 2345 Brunn am Gebirge
KIWOZI therapeutic residential community for children and juveniles, 2320 Schwechat
Psychotherapeutic university postgraduate studies "Psychotherapeutisches Propädeutikum", University of Vienna
Systemic structural constellations according to psychologist Insa Sparrer and Prof. Dr. Matthias Varga van Kibéd SySt-Institute Munich, Germany
Further professional experience:
Since 2018 at the provincial hospital Landesklinikum Baden-Mödling Hinterbrühl, department for paediatric and juvenile psychiatry and psychotherapy Wr. Neustadt as psychotherapist
20 years of professional experience in the private industry, mainly in IT and telecommunication companies with a focus on project management, marketing and controlling
thereof 5 years in management positions with personnel responsibility
Further education:
General trainer diploma for Taekwondo, National Sports Academy Vienna
Project management and management seminars, International Project Management Certification Level C, IPMA
Doctorate studies at the Department for Change Management, Vienna University of Economics and Business
Academic studies of koreanology, University of Vienna, graduated with Bacc.
International Exchange Program and Korean Language Institute, Yonsei University Seoul, South Korea
Academic studies of European Economy and Business Management, Fachhochschule des bfi Vienna, graduated with Mag. (FH)
Academic studies of International Business Administration, University of Vienna
High school with emphasis on music, Höhere Internatsschule des Bundes, Vienna
Personal Data:
Born in 1978 in Vienna with Asian roots; besides German as native language, proficiency in English, French and Korean.
My interests and hobbies include sports, in particular Taekwondo, a martial art that I have been practicing since childhood, music and dancing, acryl painting and individual long-distance travels.